Alex in Hunterland is a parody of Alice in Wonderland, but with a redneck spin. See if you can find all the 'redneck' stereotypes in this work.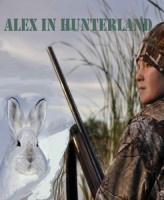 Alex, scared of his drunken Step-Father, seeks solace in the gun cabinet. Climbing in, he discovers a world with an elusive snowshoe hare whose pelt would make his Step-Father proud of him and maybe stop hitting him. Chasing the rabbit, he encounters an array of characters and nonsensical outcomes.
Please also give me some stars and a review! This is a quick read, at just under 2,000 words.